Sunshine, blue skies and mid-80° temperatures; what a beautiful day! Following a light lunch at Larks at The Inn At The Commons, I decided to continue exploring the expanding tech presence around East Main and Central Avenue in Downtown Medford. Unwilling to risk a ticket for bicycling or skateboarding—both banned by stenciled warnings on sidewalks—and fearful of PokemonGo-playing drivers (do they think the Universe is controlling their vehicle?!), I pulled out my rollerblades from the back of my car and proceeded to continue my tour of the tech spaces around The Commons on my personal set of wheels.
Today's tour was a follow-on to one I started a few days ago, while walking my 12-year-old Papillon, Zoomer.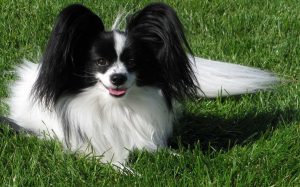 On the first leg of my tour, Zoomer and I stopped by Jake Wilson's new, unmarked space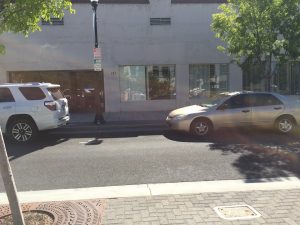 on the west side of The Commons, using the lineup of motorcycles as a guidepost.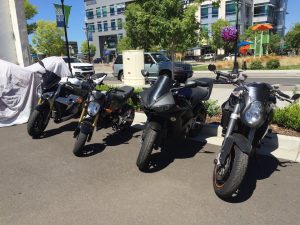 The staff—and the space—are still in transition from the Motorcycle Superstore business they recently took over. We're all looking forward to their "Coming Soon" Open House.
Zoomer and I then moved on to Zeal, located on the ground floor of the Woolworth Building on Central at 6th, and chatted with their friendly staff.
Their workspace is so open and inviting!
The occupants of a couple more spaces were not available at that time, so I rescheduled my tour of those places to this afternoon–this time, without Zoomer trailing along.
The second leg of my tech tour began at 100 East Main, where I discovered multiple non-profit entities that are all working to expand the tech presence in Southern Oregon: SOREDI, SVG, Rogue WorkForce Partnership, and representative staff from Oregon State Government Offices.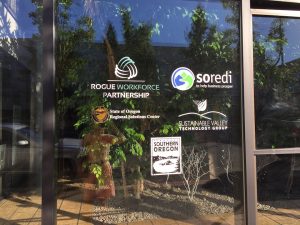 I was greeted by the charming Marybeth who interrupted her work to give me an impromptu tour of the space. I was introduced to SOREDI Staff Members Noland, Loan Manager; Colleen, Executive Director; and Tami, Executive Projects Manager for the Rogue Workforce Partnership. Marybeth provided a comprehensive overview of the upcoming events SOREDI has on their schedule, with emphasis on their October Tech Tour. Stay tuned!
Rolling out of 100 East Main, I merged into a gap in a group of teenage skateboarders who were completely ignoring the sidewalk admonishment barring skateboards, whose destination appeared to be a sidewalk demonstration ahead, across Central Avenue. Electing to avoid the crowd, I crossed East Main at the traffic light. Gaining speed to make it across the intersection before the light turned red, and focusing on locating lampposts to grab onto, I forgot about RollerBlade Rule #1: Keep your weight over the blades. With my rollerblades traveling faster than my upper body, I fell backwards. On my a**. Kaboom! This event triggered applause from the onlooking skateboarders and honks from passing cars. And, there's probably a photograph posted somewhere on the web. At least I wasn't playing PokemonGo…I might have skated into a concrete building.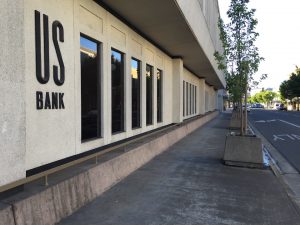 Now grateful for that recent extra cushion I've been accumulating back there, I dusted myself off and kept on rolling.
My next stop was to revisit Zeal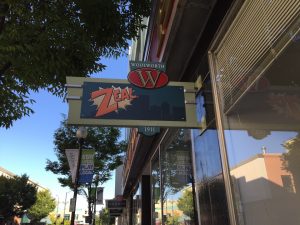 where I discovered that their wood-look vinyl tile flooring material is an ideal surface for rollerblades. [Wow! Maybe I can resurface the floor of our front garage in this stuff—as a training area! Vinyl probably provides a softer landing than concrete…] Confirming that Zeal's UI/UX Workshop starts at 6:00 this evening, I rolled on…
I decided that I needed to settle down a bit, so I rolled over to The Commons
to sit at an umbrella-shaded table and let the computer-controlled in-ground dancing WaterJet spouts distract me from my blossoming backside bruises.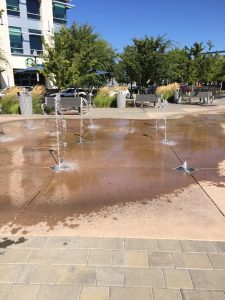 When gleeful, screeching children arrived to play on the adjacent slide,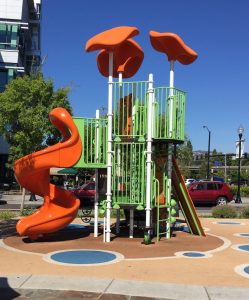 I left The Commons and returned to my car, trading my rollerblades for street shoes, and then headed back to Zeal for their UI/UX Workshop. Along the way, I stopped by to visit CBT Nuggets.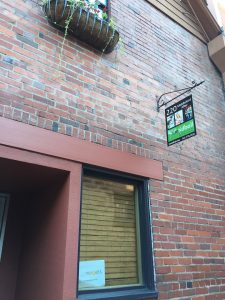 Their architect-redesigned space (formerly occupied by Zeal) is fabulous—and host to yet another gathering of DevOps people. They were closed; possibly doing on-site training somewhere.
I still had a few minutes before the launch of the workshop, so I ignored the pulsing pain emanating from my posterior and gingerly climbed the stairs to visit Acme Computer's new space on the second level of the Executive Offices at 33 North Central.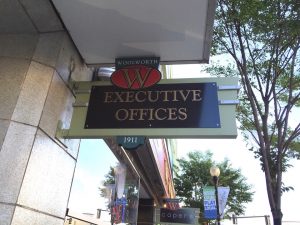 Cael Weston and his staff (Greg, Patrick and John) are still unpacking boxes from their recent relocation, but they took a few minutes to chat with me and explain their Managed Services Provider (MSP) business model.
Time for the  UI/UX Workshop!
Thanks to all the folks I met today who took time away from their work activities to greet and chat with me about Rogue Tech Hub. And thanks to all those folks who are volunteering their spare time to help expand the tech sector in the Rogue Valley.
Author: Karen
Written: 7/22/16
Published: 8/12/16
Copyright © 2016, FPP, Inc. All rights reserved.