Tonight was the last meeting in the 5-session sprint to produce a prototype for an app/website combo that features local art galleries. After summarizing the previous sprint sessions, Trever suggested that participants split into work groups according to their interests and skill sets: screen experience, share experience (between mobile device and website), and phone app.
As folks gravitated to their desired group, they discussed suggestions and got to work blending visual and structural ideas.
Several ladies turned out for this workshop.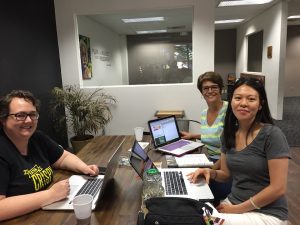 Their reason? Hands-on learning experience; a great investment of time for continuing educational activities. Hopefully, these women will be drawn to the Hands-On Tech Workshops at SOU, restarting in October.
Author: Karen
Written: 7/22/16
Published: 8/12/16
Copyright © 2016, FPP, Inc. All rights reserved.