There is widespread interest in the topic of today's Tech Talk on Data Visualization, otherwise known as Big Data and/or Data Analytics. The techniques are used in almost every type of business that feels the need to display information in a graphic format.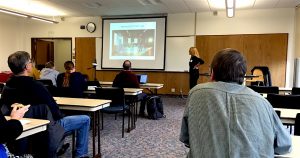 We were delighted to have Dr. Katie Pittman from the SOU School of Business present today's talk. Katie teaches Systems Analysis & Design, in addition to Advanced Business Applications and GIS courses. Her background includes decades of experience with commercial databases.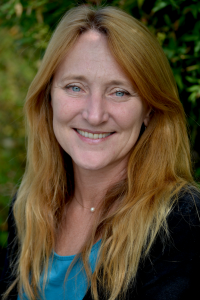 Katie introduced the topic by showing a video* from GapMinder.org about the correlation of long life to income, and then explaining the 3 Vs of Big Data: Volume, Variety and Velocity. A fourth V includes Veracity.
A broad spectrum of graphic examples from Mashable.com, Google and YouTube demonstrated the explosion of data that has overwhelmed our senses in the past decade—and promises to continue, non-stop. The solution? Use the Big Data Process to distill the vast collections of data—and cater to the human capability for visual perception; creating a data hierarchy, with the end goal of understanding the data.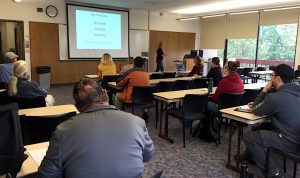 The important take-away for students is that Big Data is being deployed in a broad spectrum of professional fields: scientific research, journalism, geography, investments, and general statistics, to name only a few. One example of a local company doing this type of work, in the scientific arena, is: FlowJo. Read about the company here.
You are invited to watch Katie's tech talk here: https://youtu.be/QGYvrsM_oNk
You are invited to download Katie's slide deck here: https://infolinkqr.com/docs/DataVizTechTalk20161025.pdf
Author: Karen
Written: 10/30/16
Published: 10/31/16
Copyright © 2016, FPP, Inc. All rights reserved.
* All material on the [Gapminder] page is free to use and distribute for both commercial and non-commercial purposes under the Creative Commons License, Attribution.  This means you can freely copy, distribute, transmit, remix and adapt this material without written permission. But we require you to give clear written attribution to Gapminder with a link to some of our pages, so that your users/viewers understand what part of your product is a copy of/is using/includes/is an adoption of/based on: "…free material from www.gapminder.org".