Dr. Wayne Iba, on sabbatical at SOU from Westmont College in Santa Barbara, delivered a marvelous, informative talk on Artificial Intelligence (AI) to a group comprised of C.S. Students and local tech business representatives.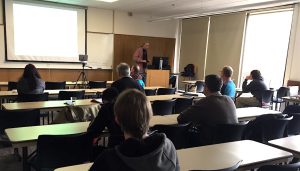 Drawing upon his experience with the AI group at NASA Ames Research Center, the FBI's Criminal Justice Information Services working on AFIS, and as an independent consultant in Cupertino-based Kanisa, Inc. and combining that practical knowledge with state-of-the-art concepts and various Hollywood attempts to employ AI for entertainment purposes, he provided a starting point to motivate his audience to do further research into the topic.
Throughout his well-balanced talk, Wayne occasionally drilled-down to the esoteric detail level and then popped back up to novice level after displaying a wide range of knowledge.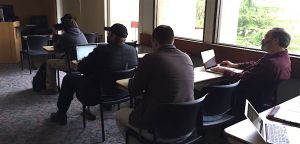 Wayne demonstrated a remarkable ability to hone-in on the audience's—and questioner's—perspective prior to framing a response so his answer fit within their level of understanding, thus elevating his stature and esteem in their eyes.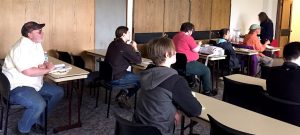 The Tech Talk wrap-up focused on philosophical and ethical issues which triggered a healthy post-event discussion.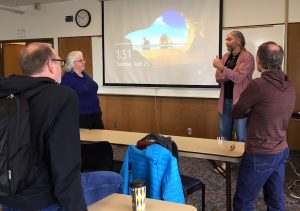 Local TV station KTVL sent a videographer to capture part of the Tech Talk and interview an audience member; this was broadcast on the 6:00 p.m. news. Watch the clip here.15-second ad.]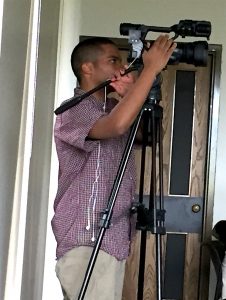 We wish to thank Wayne for volunteering his time to prepare and deliver one of the top Tech Talks of this season. We hope he selects SOU as a destination for his next sabbatical.
Producer's Note: The planned video capture of Wayne's Tech Talk was foiled by an equipment malfunction. In place of a full-length video, Wayne has graciously provided a .pdf of his slide deck. To accompany that slide deck, there's also a transcript of his talk, courtesy of an audio recording. Both are available for download.
Author: Karen
Written: 4/29/17
Published: 4/30/17
Copyright © 2017, FPP, LLC. All rights reserved.