Techies gathered together on this 7th day of September; the first day in about three weeks that blue skies and light clouds could be seen through lingering smoke from surrounding wild fires. Nice to breathe (almost) fresh air!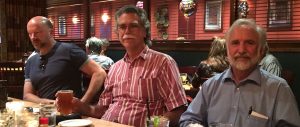 The focus this month included discussions of:
FileMaker Pro Survey; upcoming
How to price used equipment; consult Connecting Point
Zika Virus may provide a cure for Gioblastoma (brain cancer)!
Tech Workshops at SOU; need volunteers!
CRM Systems; SalesForce vs. competition
DBMS Systems; FileMaker Pro vs. SQL vs. other options
Connections to Opportunities; job openings
Engagement; two lovebirds had an announcement!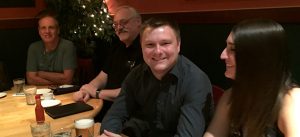 Join us on the First Thursday of each month at Cicily's Pastaria (behind Toys R Us on Biddle Road, and two doors east of Connecting Point, along McAndrews) starting at 6:30 p.m. to connect with techies throughout the Rogue Valley.
Author: Karen
Written: 9/10/17
Published: 9/10/17
Copyright © 2017, FPP, LLC. All rights reserved.