This month brought new people to mix with regular attendees.
Good news about people getting jobs locally; some after a long search; others are telecommuting. One person recently signed on with RelCom, Inc. in Portland. RelCom designs and manufactures wiring components and test equipment for LANs.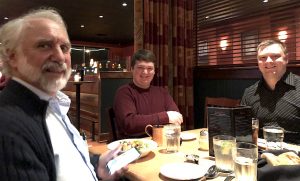 We apparently have some competition for meeting days and times from the Game Development Club over at Zeal. Two members of the SOU Game Development Club mistakenly arrived at Cicily's only to discover they were at the wrong meeting. They left.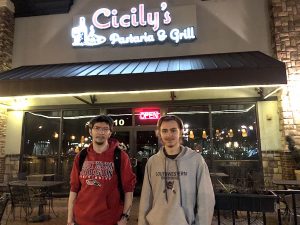 One new attendee reported that his company is using Laravel to develop backEnd applications in PHP, and they have good things to say about the product. Apparently, this framework is reviving PHP.
Some of us heard, belatedly, that Cummins Engine bought out Brammo last November. Oh. Cummins is looking for software developers who are able to use C / C++ in embedded systems. Two people made connections regarding these opportunities.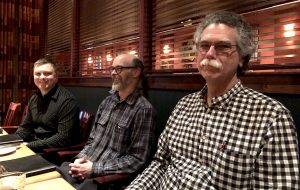 One attendee is now working for Lark, a Mountain View-based company that "monitors and manages the most crushing chronic diseases." Very cool app.
We all discussed the recent discovery that Strava, a fitness tracking app that uses FitBit and other personal monitoring devices to map locations of people wearing these devices—and has resulted in pinpointing the locations of military bases, based upon military personnel who use these devices. Eek!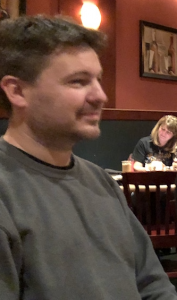 Some people are electing to not attend the SOGGy Meetings due to menu prices, so we are searching for options; maybe someplace that offers presentation space for show-and-tell events. Stay tuned for updates to meeting locations.
In other news…
The Print Shop At The Commons (across Riverside Drive from Inn At The Commons, on the ground floor of the Lithia Building) will spiral-bind text / tech books for around $2.00; they chop off the perfect-bound spine, punch holes and then thread the spiral coil through the holes so the book can lay flat while you read or try the examples.
The Verge reports that the iPhone X is Apple's underrated masterpiece. Good article.
Author: Karen
Written: 2/4/18
Published: 2/4/18
Copyright © 2018, FPP, LLC. All rights reserved.