Our second meeting at Larks, inside Inn At The Commons in Medford, brought more new members and the return of a few people who have been absent in recent months. We filled the table.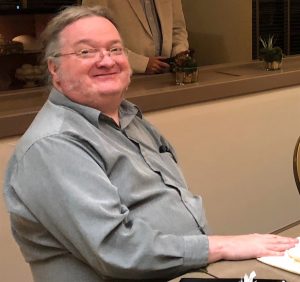 There were lively discussions about games (both playing and developing), talk of some Raspberry Pi applications, security challenges companies are facing, Linux, courses in .NET and Windows, and new business ideas.
A suggestion was made to have a brief (10-15 minute) tech talk after dinner, for both the SOGGy and (formerly) CocoaHeads meetings that meet on the first and second Thursday of the month, respectively. This suggestion was received with enthusiasm, and several ideas on topics for these Lightning Tech Talks were presented.
We launched the Lightning Tech Talks with a brief presentation on Itty.Bitty.site, which offers the capability to produce a mini standalone website; browserless.
The demonstration involved creating a web page that lists aptitudes. After displaying the page, the next step was to show the volume of HTML required to produce that page. Testing the tensile strength of the IttyBitty website, the next project was to create a hierarchical structure with links that led to examples of each aptitude; this version quickly exceeded the maximum character count available to wrap the HTML text in a QR Code. The exercise, while a great way to practice HTML, really makes one appreciate browsers! Click here for an operational example of this exercise.
We have a commitment from a couple of people to present a Lightning Tech Talk at future meetings. What a great way to: introduce people to some new tech feature; practice speaking to other techies; and learn about a new product, language, or operating system.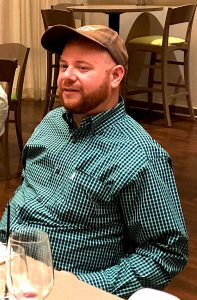 JOIN US!
Join us next month (10/4/18 | 6:30 p.m.) at Larks inside Inn At The Commons, at the intersection of Riverside Drive and 5th Street, in Medford. The meeting space offers access to both the Lounge Menu (lighter entreés) and their regular Dinner Menu. The full bar offers a great wine list and craft beers. Following dinner, we are welcome to stay in the same area and listen to a Lightning Tech Talk presented by one of our members. Bookmark the Rogue Tech Hub Event Page to stay informed about the latest meeting details.
Author: Karen
Written: 9/6/18
Published: 9/9/18
Copyright © 2018, FPP, LLC. All rights reserved.