Mini Drones! They're cute, fast, and apparently indestructible. Small children are captivated by drones!
I was encouraged to try the controls, and promptly crashed my drone; it bounced on the carpet.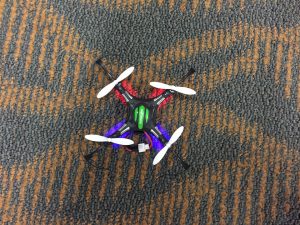 To get a feel for the size of these mini versions, they would fit into an average adult's hand. I don't know what the payload capacity is, but they could definitely carry a small camera. RHL has offered to obtain drones for attendees, at their cost: about $20.00.
Rogue Hack Lab is considering an age-bracketed drone flying contest at the upcoming Mini Maker Faire scheduled for November 19, 2016 at Science Works.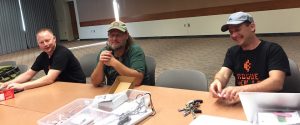 I look forward to being able to purchase my own, personal drone transportation, although reason suggests I should probably wait for the auto-pilot version, given the results posted in my drone flight log…
What a fun—and inventive—evening!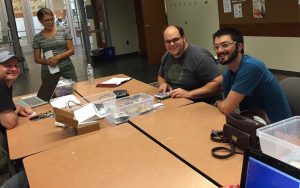 Join Rogue Hack Lab at the Medford Library on Second Thursdays of each month, starting at 6:30 p.m. Bring a project to share!
Author: Karen
Written: 8/17/16
Published: 8/17/16
Copyright © 2016, FPP, Inc. All rights reserved.