CORE Business Services is the largest MSP in Southern Oregon. The company acts as an external I.T. Department for small businesses that are interested in efficient and cost-effective technical support services. Their average client is a 40-user company without an internal I.T. Department. Healthcare professional service companies and general business companies alike contract with CORE to enable the client's office staff to focus on their own specialized medical or business expertise—and not worry about managing the technical aspects of a computerized business.
The CORE Staff currently numbers 25 people and has broad technical expertise in hardware, networking and software, including the language skills required to communicate with computers. But their most important language is: English; they truly understand how to communicate with their clients.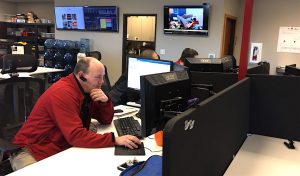 CORE takes care of business by building relationships. The initial contact with prospects often occurs during an educational seminar co-sponsored with one of CORE's business partners; this provides an opportunity for CORE's technical staff to interact with the prospect's staff in an informal setting. The people who will be contacting CORE for tech support have a chance to meet the people they will be interacting with via phone, once they contract with CORE Business Services.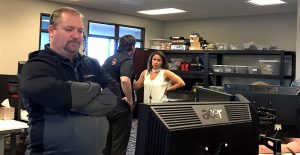 The company as a whole takes responsibility for the smooth operations and safe storage of a client company's technical operations, which is no small matter these days. CORE has placed their trust in the Green House Data Center (a true Tier 4 Data Center), headquartered in Cheyenne, WY for data backup. When CORE started with them, they were a single data center; sort of a boutique data center. They now have eight locations around the country, very legitimate, with all the necessary certifications. They are fully redundant. They can handle power or weather disruptions in one location and swap out to another location.
CORE'S BUSINESS ARC
Scott Anderson, CEO of CORE, initially launched his business in 2006 as an Accountancy Consultancy and soon expanded his services by providing outsourced Controller functions. Then a couple of clients needed a software migration from QuickBooks to SQL … then they needed a server and a network and he sub-contracted out those projects once or twice … then he thought, why not do this in-house? That was the trigger to transition to the current Managed Services Provider (MSP) format.
Born and raised in Southern Oregon—in Rogue River—Scott attended George Fox University up in Newburg before returning to Southern Oregon to complete his Bachelor's Degree at SOU. Following that, he went back up north to get his Master's Degree in Teaching Business Administration from Western Oregon University in Monmouth. Since then, he has stayed close to home as he built his business. CORE's local office is located on the top floor of the Million Air Building, adjacent to MFR's Runway, and they now have a second office in Portland—with a staff of five—that is connected to the local office via video conferencing technology. This connection allows the local and remote techs to communicate with each other, for escalated internal support and backup remote client support.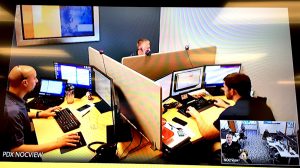 THE COMPETITION
While the competition up North is more intense—there are more serious companies with lots of funding—the local competition covers a wide spectrum; "everybody from the Company Controller who also does I.T. to the guy working out of his trunk to other MSPs."
THE COMPETITIVE SPORTS CONNECTION
In the face of these challenges, Scott exudes confidence. That confidence is derived, in part, from his success with coaching school basketball teams, and understanding team-building: combining players with the correct mix of skills and knowing which team member is the right person for the task at hand; then sharing the responsibilities and glory. He coached the Rogue River High School basketball team to the Oregon State Playoffs after the team had endured four decades of non-winning seasons.
That idea illuminated the theory that having a background in competitive sports helps you in life; participating on a team where all the players form a combined skill set, and then having that combined energy move you—and your team—forward. Scott said that he is personally crazy-biased on this subject. He thinks that sports teaches youth more about life than school does. English & Math are important, but he thinks that sports—being on a team and teaching teamwork—is way more important.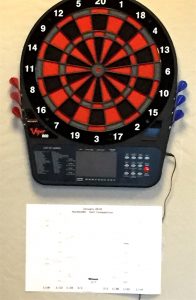 ACCOUNTABLE COMMUNICATION
He continued, "One of my goals this year is to incorporate more of a sports team mentality into our company. Accountable Communication is one of our themes this year. For example, from time to time, one person has a problem with another person. When you have a couple of players on a sports team who may be bitching about an issue, you let them get in each other's face and address the issue directly. We're going to stand around in a circle and nobody has a problem telling the person next to them, 'we need you to do more of this.' In a corporation, that's not the case. Funny that you asked about this because that's one of my biggest drivers this year is to turn our company towards more teamwork and more of a sports culture."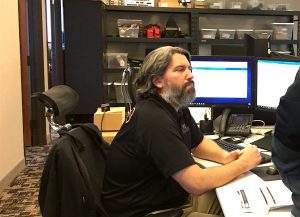 BREAKTHROUGH
Once CORE broke into the Healthcare Professional Service Industry, invested in handling EHR (Electronic Health Records) and gained an understanding of HIPAA regulations, they forged ahead and focused on that particular industry; it quickly became their biggest segment, although they still have a broad-based clientele and they are not vertically-segregated.
The primary technology that CORE uses at this time is Windows-based. The benefit to clients is standardization; having a common base is cost-effective for both parties. But these days, with the movement towards browser-based platforms, the philosophy has pivoted to more of a bring-your-own-device world, and no matter which device you compute on, CORE is able to support that.
As the relationship between client and service provider grows and CORE earns the trust of their clients, they are positioned to move to the next level—to understand how they can get more strategic and discover how they can bring more technology to their client's business that can help that client grow their marketing department to meet their business objectives.
STAFFING REQUIREMENTS
Determining staffing requirements is probably the hardest part of running an MSP; there is no formula. There are all sorts of industry standards regarding the number of people required per endpoint managed—or per user managed. The problem with standard formulas is: no single client has the same needs as any other. A one-hundred-user company might be the most high-maintenance people you'll ever contract with, while yet another hundred-user company might never call. Instead of using formulas, the CORE Team relies on metrics.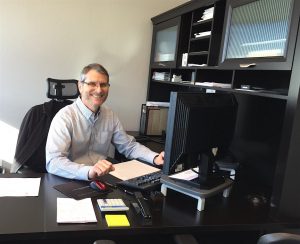 METRICS vs. STATISTICS
CORE measures Ticket Count, Resolution Time, Averages, Call Queue Status, Number of Tickets Closed (daily); then adds Customer Satisfaction Responses on top of those metrics. They know what those metrics should be; when they should hire, based on a financial model, or an endpoint manage model but unfortunately, those models do not fit every situation.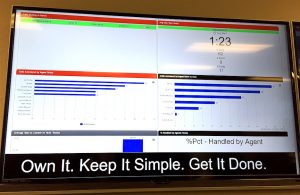 And the planning is not always based upon statistical data, per se. Some models suggest that each engineer should manage 1,000 endpoints, but that's not cut-and-dried. Sometimes, the MSP might be forced to add an engineer for 250 endpoints and other times, they can expand that. The bottom line is: they combine all the metrics and statistics and come out with what they need.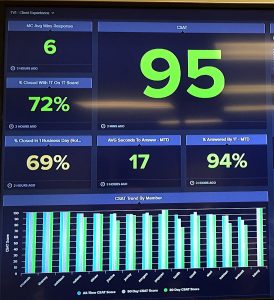 COMMUNICATION SKILLS
When staffing for their expanding business, the skill set that CORE looks for in new hires varies, but the top requirement is: communication skills. Scott expanded on this, as follows: "Our experience is that it's fairly easy to find someone who's technical, and it's fairly easy to find someone who communicates well; however, put those two skills together and you've got somebody who's pretty valuable. So we start with communication, especially because we'd like to start the hiring process at the entry level. We figure that, if the prospect can communicate, we have enough smart people here that we can train them on the remaining skills. So that's definitely the focus. After that, the skill sets we are looking for include Windows-type certifications."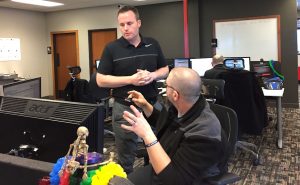 PROFESSIONALISM
What about professionalism, ethics, appearance? "Yes, for sure. We actually won a deal which was our biggest deal at the time, and I truly believe we won the deal because the president of that company talked about our professional appearance—and how the competitor we were displacing, for lack of a better term, always looked unprofessional, to put it nicely. So, appearance is definitely a big part of what we look for in a new hire."
EDUCATION VS. DRIVE
As for education level, Scott explained, "It's funny … because I get asked this a lot; especially when I talk to some high schools, and I almost feel bad saying this sometimes, but I'm so much less-concerned about any college education and more concerned about the person's urgency; both when they're working for us and their personal urgency to get to the next level. In the Microsoft World, you can train yourself up pretty well on Microsoft products to be in an entry-level position just by training at home, going online, taking some web training and getting a certification or two. So my opinion is that some young people go to a four-year college and get a degree in Computer Science that is so much focused on software development, which is nothing we do, so those graduates are less-valuable to us than someone who came here out of high school focused on Windows and, four years later, is making a pretty good salary."
So, instead of spending four years in college (and going into debt), they can be making money during that four-year period? "Exactly. And you know, there are some people who are 8-5'ers and aren't going to study, and there's a place for them. But the ones who can really excel for us are the ones who have a lab at home and they're down here on the weekends and they interact with the senior people here and bounce ideas off them, and advance in that manner. Most times, a college degree would have done nothing for them."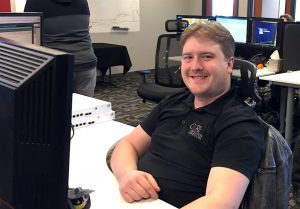 Experience has shown that it's what you do. It has nothing to do with who you are … or have been … or any demographic factor … success is all about what you can do for the client.
SOFTWARE DEVELOPMENT
What about experience with specific languages? Scott responded that they haven't done software development in the past; however, they purchased a website development company about four years ago, so they are moving towards doing custom software, on a small scale—mostly with an existing client who requested some custom work. Scott feels that they can't decline those requests because then, where's their value? They don't want to send their clients somewhere else for custom development. Instead, they might sub-contract with local consultants for development projects.
VENDOR SELECTION
When selecting vendors, CORE searches for great providers and sets up a partnership. Obviously, the technology has to work. And again, CORE is very standardized, so the firewalls they install are one of two brands (because they've transitioned from one to the other), but the real reason they work with specific vendors is because they are partners. So, it's not the technology. There are about five good firewall manufacturers out there, and they all have their pros and cons. So for CORE, it's what the partnership is; how are they going to take care of CORE and their clients when there is an issue, how much are they going to contribute to the CORE event-based marketing?
MARKETING STRATEGY
The CORE Marketing Plan is straightforward: Educate the users and, in the process, demonstrate your expertise—both in technical and relationship matters; get to know the prospect by initiating a face-to-face relationship. This plan has worked well because the format provides some basic education to the end users who attend the talks and provides CORE staff the ability to gauge the technical expertise of their prospects and speak to them appropriately.
Scott explained that they do a lot of co-events. They look for someone who prioritizes CORE as a partner. Additional considerations are partners that send leads to CORE. Again, the relationship with the vendor is the focus.
When I asked Scott what, in his skill set, lets him manage both customers and techies while juggling the varied demands of the MSP business, he replied, "One of my skills is relationships, so I have pretty solid relationships with our existing customers—and potential customers. Sales is one of those things that I never thought I'd be very good at. I was shy in high school, and my face would turn red. But now I speak so often at events that I've overcome that challenge. I think that, for us to be successful in all those areas, the secret is surrounding ourselves with good people."
Scott currently handles all of the sales and trusts his Senior Account Manager, Brooke Gregory, to handle issues for existing clients. Casey Murdock is Director of Technical Operations, and manages any issues presented by the technical staff. Scott's attitude is: the success of a smoothly-running team is having the right people in the right seats to manage the issues that come before them.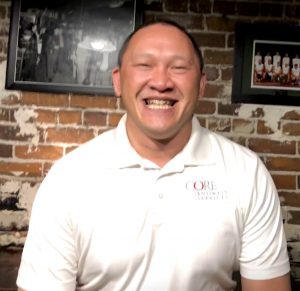 Scott believes he is really good at delegating and, if he has a fault, that fault may be that he trusts his people a little too much and lets them do their thing, and if things don't work out, they figure out a solution together.
PLANNING STRATEGY
Is the CORE planning strategy based upon general industry standards or specific company needs? Scott's reply was, "I think it fluctuates, actually. I think this year, our planning strategy for 2018 was more focused on needs, and needs relating to where we are as a business; what stage we're in and where we want to go next. In past years, we've been more industry-focused. Our strategy is to set goals on an annual basis, knowing where we are as a company, and where we want to go next. This strategy is implemented informally; however, we definitely take the time, when needed, to dive-in and talk about issues."
TEAM BUILDER
Scott has been included in the MSPmentor 250 List three times. What drives him? "What drives me is building a great team. If I could do anything, I'd coach basketball full-time. I coached high school basketball for 10 years, and was pretty successful. I was coaching at Rogue River, which hadn't won anything in a bazillion years; however, we went to the State Playoffs for the first time in 40 years … and, I had a good time doing that and now I'm coaching AAU Basketball Teams, and I'm coaching younger teams with the same maturity level as high school players, at times. I get excited about surrounding myself with a great team. I get excited about that, and also when we can add value for our clients' businesses. That's really what drives me: to work with our clients and help them turn I.T. into a cost center, and help them add value at some level. You know, that's only a small part of what we get to do but so much of I.T., no matter how good you are, is fire-fighting; that's the part I dislike the most but the other part offsets that. I feel good when someone else succeeds based upon our assistance."
GROWING THE LOCAL TECH SECTOR
When asked about the potential for growth in the local technology industry, with all the techies immigrating to Southern Oregon from Silicon Valley (to semi-retire?), Scott's reply was, "There's been so much talk about it … a Tech Center out in White City being built…
You know, the other problem is: Tech is such an all-encompassing, amorphous word. Tech, for us, is corporate networks. And, Tech for the guys downtown is software development. And Tech for someone else is completely different. And then there are Tech Industries and all the different pieces. So I see Tech continuing to grow simply because that's where the world is growing … because Tech is growing. But can I forecast which part of that is going to grow? No.
"The hardest part of that is going to be the people. You know, I think that, in what we do, we need younger people with the skill sets and the drive; the millennial group that has the skill set and the drive—and the communication skills which, again, is a challenge to find. I think the drive with millennials is not all that different from that of the seasoned techies; I think you have to judge that on an individual basis. I think that, with millennials, they can have the drive but their focus is split between Instagram and other activities and work, so it's all about how you enable them to do their job. And maybe, millennials aren't going to be in the office from 8-5 but they might work their tails off between midnight and 5:00 a.m. because they're doing some fun stuff in the middle, but they're very committed. Giving them direction and freedom … as long as they have integrity and will properly-manage their time."
SPECIALIZED HARDWARE OFFERINGS
An MSP is ideally positioned to offer access to specialized hardware; for example, high-end printers or other exotic equipment that might be difficult for a small company to justify. Have you considered offering this type of service to his clients? "Yes. Our goal is to get to scale—to achieve the goal of having the largest head count in Southern Oregon and I believe that, as we grow, we can provide better service for our clients because, if one tech is on vacation, it doesn't hurt us because we have redundancy across the board. Part of that is having those other offerings.
We've had discussions about medical equipment such as PACS (Picture Archiving and Communication System; an imaging system for radiology). We've had some high-level conversations around those things where we talk about what we can do—and consolidate around that all our customers can tap into, and be a resource for all of our customers. So it's definitely stuff that we talk about but I can't say that there's anything specific that is on deck at this time. But that's the stuff that excites me more, that kind of next-scale type of stuff that, first of all, can be a benefit for our clients, but also can differentiate us."
CORE'S MISSION STATEMENT:
To enable our clients to achieve their unique business objectives
through innovative yet simple technology solutions.
Expanding upon that…
"We're really focused on the idea that I.T. is becoming more of a commodity, and how do we engage more strategically with our clients and the objectives of our clients, and how do we utilize technology to enable them. So that's really what our focus is, along with making our service delivery scalable and turnkey so that we can do the basic stuff. And I tell our clients that they do business with us because we add value to their business, at some level. At this point, a lot of that has been me, in a consulting role. We have some great account managers to keep the relationships, and we're building on that. We recently hired someone who came to one of our Tech Talks, and now works for us, who is going to build out that consultancy role, so we can really get strategic."
Scott then talked about being a member of the Vistage CEO Peer Group in Portland, and how he's been in other industry peer groups around the country in the past, which were great because these groups include companies like theirs but are geographically diverse, so they're not direct competitors. The members all share techniques and procedures (ex: how do you do this task on your service desk?) to confirm their thinking and learn new techniques.
"This participation really got us to the next level, and it came to the point where we discovered that the things we struggle with … nobody in our group has the answer. Not that we are so much more advanced, but we're ready to go to the next level. How do you build a Sales Department? How do you do these things that most other technical owners don't have a clue about? And, I'm not a technical owner so I joined Vistage CEO Peer Group and, in my peer group is the CEO of Leatherman Tools, the President of Pacific Foods (which recently sold for $700 million.) So, very legitimate companies that, if I want to talk to them about how do I build something like a Sales Department, they are going to sit me down and explain what I need to know. So that's been a great thing from a resource standpoint. Our sales process is really event marketing, which gets the prospect into the [sales] funnel, and then we work with them on the relationship, one-on-one, and really tie-into our Mission Statement; that is what drives our engagement with our clients, as well as How do we engage with you toward those business objectives and create simple solutions?"
CORE's VISION
CORE'S vision is to be the most-admired technology services provider and place to work in Oregon. They appear to be well on their way to achieving that goal. To a person, the CORE Staff demonstrates a blend of competence, confidence and compassion—and great interpersonal communication skills.
For more information about how CORE Business Services can assist your business, you are invited to visit their website.
Author: Karen
Vetted By: Scott
Written: 2/18/18
Published: 2/21/18
Copyright © 2018, FPP, LLC. All rights reserved.