Connecting Point is the oldest Apple Dealer in the Pacific Northwest, serving the needs of Apple Aficionados throughout the Rogue Valley.
NOTE: The following is primarily transcribed narrative from Tom Pentland, Marketing Director at Connecting Point, captured during a recent visit to their new store. Some minor changes—a word or phrase here and there—were made to translate conversational to narrative format, or to clarify a concept. Enjoy!
From Stereos to Computers; The First Ten Years
K: Tell me about the history of Connecting Point; how did it all start?
T: When I came on board (1980), they had just started ramping-up the computer side of the business. Initially, back in the mid-70s, the store began as a stereo store (Southern Oregon Stereo), and then transitioned to a Team Electronics franchise; they sold CB radios, car stereos and home stereos.
The Team Electronics franchise we were associated with was one of the very first large distributors to carry the Apple Computer, so Connecting Point became one of the first Apple Dealers in the country.
As consumer interest in stereos waned, the market-savvy owner made the decision to pivot, and consolidated their product line to focus on computers. The introduction of the MacIntosh in 1984 marked the turning point.
New Location
K: You've recently moved to a wonderful new space, on McAndrews, next to the Golf, Inc. store; what a great neighborhood for your store!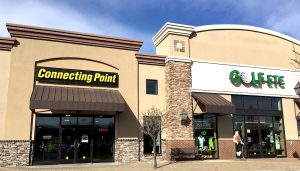 T: The move was difficult but we love the space! Not only the interior, but the location is great! The McAndrews Shopping Center [located behind the Toys 'R' Us store on Biddle, and across McAndrews from Wells Fargo Bank] is much busier, traffic-wise, and our neighbors are more compatible with our product line.
Great Customer Experience
K: Your new store is a lot smaller than the old one…do you have room for expansion if that becomes necessary?
T: I feel we have plenty of room to do what we want to do, although I wish we had a bit more space for classrooms. However, there's a bank close by that might offer a conference room for that purpose, on an occasional basis.
When we started with computers, the equipment was much larger and bulkier. Now, computer equipment is tiny, slim, and lightweight; we don't need as much display space. And, Apple likes the boutique look and feel for their stores; that had an influence on the type of space we selected—and how we display our products. Apple is quite precise—to the quarter-of-an-inch, actually—about placement of equipment: where to put keyboards and mice, and how far the computer is from the back of the display space.
K: So, does Apple come out and inspect the store to check that these requirements are met?
T: Yes! They are coming next week to check out our new store. They are perfectionists—and diligent about protecting their brand. Apple wants to make sure they provide a Great Customer Experience!
K: Well…computer people tend to be perfectionists, very precise and detail-oriented.
T: True!
Training Classes
K: You mentioned classes. What kind of classes do you teach?
T: For years, we've been doing monthly Introduction to MacIntosh classes on Saturday mornings—primarily for folks who are switching from the Windows environment—demonstrating how people used to do things in Windows … mapped to … this is how you do those things on the Mac. Then the instructor comes back in the afternoon and teaches an introductory iPad class. The teacher is an independent consultant, Mike Davis, who also does in-home training and teaches at computer clubs.
K: So it sounds like most of your students are adults and have some computer experience but are new to the MacIntosh World.
T: Yes. The classes are intended to get people up to speed on their new Apple equipment. We also conduct quarterly seminars for Apple; later this month (3/14/17; 5:30 p.m.), we are presenting a seminar on the new Mac OS: Sierra.
Breadth of Operations
K: Does Connecting Point focus on individual customers, or business sales?
T: We don't have an outside sales force. But a big part of our business is B2B. We work with Harry & David (and have for years), and local newspapers, but we are primarily a general retail store. Our service department handles service agreements with health care providers, doctors offices, banks; a service tech might go into their facilities once a month or once a quarter to ensure the equipment is updated to the latest version—and working properly.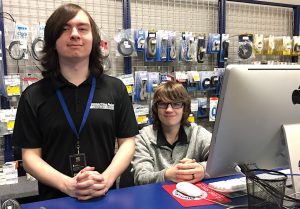 K: Managed Service Provider (MSP) seems to be a popular business format in this area.
T: Connecting Point has looked at that, and realizes how much work is involved with that business model. They would have to hire someone with a background in each specific industry. Same thing with cell phones; we carry the iPhone because it's part of the Apple Repertoire. We tried partnering with Verizon for a couple of years and we simply couldn't seem to get traction. The process is complex, with all the sign-up, paperwork, activation; it's very time-consuming. And, there's lots of competition. It's hard to get good people up-to-speed on that process. Also: where would you find the people to staff that department?
Locating Talent: People Skills Trump Tech Skills
Finding the balance is the difficult part. We generally hire someone who is a people person rather than technically-oriented. Someone who can relate to people and discover their needs and suggest a solution that's tailored for them; that's a real skill set. Not simply sales skills; people skills. Technical skills can be learned.
Transferrable Skills
K: What's was your work experience prior to coming to Connecting Point?
T: I moved here after I completed college, with a dual degree in communications and English Literature. I was looking to get into journalism at exactly the wrong time. Neither of my degrees had much application in the market at that time. I tried to get into a local newspaper and other publications but did not have much luck there. I ended up gravitating to computers…On balance, it's been a great fit for my skill set. Everything sort of funnels into marketing.
K: Computer people are not always great communicators, so it's great that you bring a background in communications to the computer industry.
T: I learned the jargon and specifications, and then learned how to communicate that to our customers.
Add Passion
K: What do you love about your job, as Marketing Specialist at Connecting Point?
T: I've always been into gadgets. I've always had really good stereo equipment, in both my home and my car. I love computers. And I occasionally like to get out a soldering iron and play with equipment.
I'll never forget on Superbowl Sunday in 1984—the game that broadcast the most famous TV ad in history: Apple's "1984 Hammer Throw" ad—the owner of Connecting Point came into his living room, where we had been watching the Redskins play the Raiders, and pulled a MacIntosh out of a bag. What an amazing day that was!
Over the years, I've had the chance to meet people like John Scully, and I've served on a User Group Advisory Board at Apple—for a time—in Cupertino. As a marketing person, I get to do a little bit of everything. I write and record all of our radio and TV commercials, and the rolling displays on screens in the store. We print our own signage and posters in-house, on a large-format printer. So I get to work with some cool gadgets.
Stellar Staff
K: Where did you find your stellar staff?
T: The two department heads are Jeff, the General Manager; and Jason, the Service Manager. Jeff is responsible for Sales and Administrative hires, and Jason is responsible for the Service Writers and the Techs we hire. We look at Craigslist, local job posts, and even competitors, on occasion.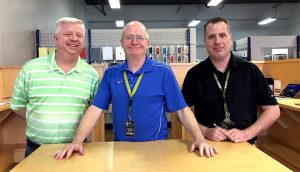 The Ultimate Customer Experience For Technology Shopping
K: What do you want people to know about Connecting Point?
T: I like to think that we are the ultimate customer experience for technology shopping. A customer can come into our store and view all the products we offer in a pleasing setting. We've put a lot of time, money and effort into displays that are hands-on, so a customer can try the equipment and software before they make a commitment to purchase. A customer has a lot of choices for where to buy equipment, but we offer a unique buying experience. It's hands-on, you can try before you buy, and we don't turn our backs on the customer after the sale, either.
One of our aces in the hole is lifetime complimentary up-and-running tech support. When you buy a computer, or an iPad, you can call and get tech support from us.
No Pressure
K: The sales staff is marvelous! They are smart and know their product lines. One of the favorite things about going into Connecting Point is: you can come into the store and browse and not feel pressured to buy something right now!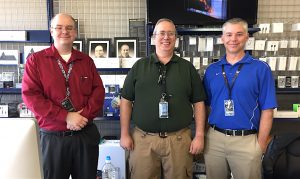 T: That's very purposeful. We have no quotas. We are not trying to force things down peoples' throats. Our products sell themselves. We simply show what the products can do.
Apple, Post-Steve
K: How did you feel after Steve's death, when Tim (Cook; CEO) took over? Were there strong concerns among the Apple dealers that things would crumble?
T: Sure. I think that sent a ripple through the entire industry, and it was felt through the dealer channels—like everywhere else. The one thing we were very worried about was: will the inspiration still be there? Will the Apple products be the best and brightest? Will Apple stay ahead of the curve? Exactly!
There are so many things that started in the Apple World first and then trickled down into the rest of the user community. They were the first to lose disk drives, the first to jettison optical drives, the first to adopt USB ports; so many things that are now standard across the industry.
So far, I think the jury's still out on what Tim has in the pipeline because a lot of the products that have been rolled-out were already in development under Steve Jobs. But rumor has it that this year is going to be a watershed. Rumors suggest great new offerings. In fact, there's a press event next week that we are hoping will offer some pretty cool, exciting announcements. We are looking forward to hearing what's new.
There are a lot of products in their line that have languished for a time, and need to be refreshed; I think that's coming this year.
Remembering The Steve
We chatted about the Steve Jobs film, written by Aaron Sorkin (based on the Walter Isaacson biography) that featured Michael Fassbender as Steve Jobs. We both agreed that the film put Steve Jobs' persona on the screen, as opposed to focusing on the Apple product line. Seeing the now-historical events re-enacted in this manner was quite emotional and exciting—to see behind-the-scenes stories and compare that perspective to real-time experiences was very cool. What a visionary!
The Future
T: In closing, we've been around the Rogue Valley for four decades and I think we've still got the best times in front of us; there's a lot more that we have to offer our customers. I believe we will continue to learn from any mistakes, and to improve and simply get better and better at what we do: Offering the best technology to our favorite customers.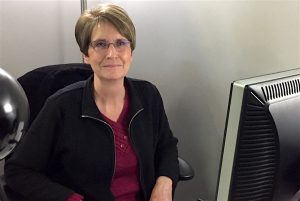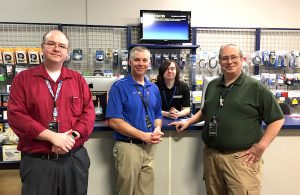 Author: Karen
Written: 3/4/17
Vetted By: Tom Pentland
Published: 3/4/17
Copyright © 2017, FPP, LLC. All rights reserved.