This month, we welcomed one new person to the group and several returning folks who have missed recent meetings, due to schedule conflicts, family events and vacation travels.
The primary discussion points included:
News from Apple's iPhone Event yesterday

NO Headphone Jack (!)
iPhone 7
AirPods (Wireless EarPods)
Touch Feedback Home Button (non-clicky)
Double Camera
Apple (Water Resistant) Watch Series 2
Upcoming iOS 10 Release on September 13
MacOS Sierra Release on September 20

Vacation News

Local Family Events
Switzerland

Introductions of new and returning folks
Education on OS X download restrictions
Connections to Swift Developers
Statistics on Apple's App Store

500,000 Apps Available
140 Billion Apps Downloaded (up > 100% YOY)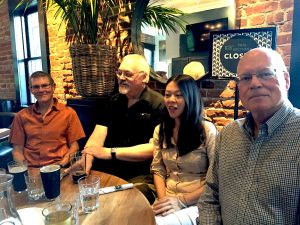 Join US! next month, following the launch of Season 3 of Tech Workshops at SOU. Mike Birkhead will be conducting a workshop on Agile Development.
Author: Karen
Written: 9/9/16
Published: 9/9/16
Copyright © 2016, FPP, Inc. All rights reserved.