Our group is expanding! If not for work emergencies that prevented two people from attending, we might have had eight CocoaHeads attending this month's meeting.
Topics we discussed this evening:
Developing secure communication software for iOS
Where to learn about software
Where to learn about general career resources
Coworking Office Space: Check out Shasta Networks Coworking Space in Ashland.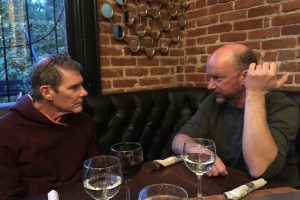 We had planned a discussion on Core Data (a "useful tool for fast, persistent storage on mobile devices"), hosted by Dave; however, he had an emergency situation at work that prevented him from attending this month. We look forward to hearing more at next month's meeting.
The Brickroom was absolutely packed, as was Downtown Ashland. Busy evening.
Mark your calendar for next month's meeting: Thursday, November 10, 2016 at 6:00 p.m., following the Tech Workshop at SOU on the topic of Development Environments Using Vagrant and Puppet.
Author: Karen
Written: 10/15/16
Published: 10/15/16
Copyright © 2016, FPP, Inc. All rights reserved.