A hearty group of attendees discussed a variety of tech topics this evening.
Topics Discussed:
OSF

Othello: A great play!

Destiny of Desire: A great Mexican Soap Opera; good enough to see again.

Henry V: Music is Great!

Sense & Sensibility

FlowJo

Acquired 2-3 months ago by Becton Dickinson (BD)
Use Java Script to develop their software
Discussed Electron Framework; a wrapper for desktop applications; this triggered a discussion of mobile vs. desktop apps; mobile is driving the application software these days. Electron is a way of cloning a mobile app and creating a desktop app.

Upgrading your MAC

New MAC; upgraded from MAC G3 running OS9
Question about Spotlight

MAC Answers & iWatch Activity Monitor

Discussed Spotlight and how keyboard commands can be used to launch an app quickly.
Check iCloud settings that automatically move stuff to the cloud.
Shared Activity Monitor app, and how the iWatch app reminds the wearer to workout.
Streaks Workout is an app that was recently free to download for 7 days; described as "a personal trainer that you actually want to use."

General

Vesigo Studios produces an app called OnTime360 that provides Delivery Management Software for Couriers and Dispatchers. Great app!
Apple's new Swift Language is now in the top 10 (at #10) rankings of Programming Languages, according to this article on Cult of Mac. What does this mean? Well, you won't be wasting your time learning Swift.
Swing: a GUI widget toolkit for Java; an API for providing a GUI for Java programs.
Intern Seekers were connected to those seeking internships.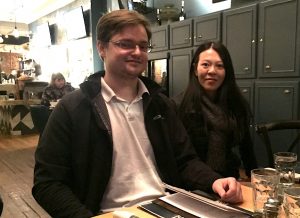 Difference Between a Framework & a LIbrary
A discussion ensued regarding the difference between a Framework and a Library; what's the difference? This led to discussing the confusion surrounding Frameworks, IDEs, APIs and other collective development tools. Bottom Line: a Framework can contain a library of routines or methods, and a Library can (potentially) contain a framework but not usually. The difference seems to be how the software tool is used. A Framework forces a distinct structure on the developer. A Library, or collection of routines, might include multiple routines that do the same or similar things; the developer is free to select a specific routine. In using a Framework, there is more control imposed upon the developer to conform to the thought process of the Framework Provider; don't worry…we'll automate this for you. The downside? Part way through development, you may discover something that you want/need to do and the Framework Provider has not yet provided a routine for that; thus, you must code the functionality yourself.
Link to article on Cult Of Mac re: Swift Programming Language has Cracked The List of Top 10 Programming Languages (as indicated on GitHub and StackOverflow). Wow!
Join us! Every Second Thursday of each month at 6:00 p.m. at The Brickroom on The Plaza in Downtown Ashland. We focus on everything tech!
Author: Karen
Written: 3/10/18
Published: 3/10/18
Copyright © 2018, FPP, LLC. All rights reserved.