About a dozen CocoaHeads braved the bitter cold (hovering around 40 degrees!) in Ashland to share news and tech connections at The Brickroom. They built a wall next to our table—not to keep people in/out but to keep out the cold so we would be more comfortable and order more stuff!
News of the evening included:
Tech Connections, past and present.
Welcoming new people; one relocated from Canada, one local.
New jobs.
Discussing new business: computer consulting for cannabis business owners.
News about the Art Authority app, now available on iPad.
Connecting the members of the SOU Game Developers Club with a great SFO restaurant when they attend the Friday sessions of the Game Developer's Conference on March 23, 2018.
Inquiries about AR Developers for one person who wants to virtualize the world.
Netflix is cheap; $15/month. No commercials. Yet. (They said the same thing about cable TV when that was launched…just sayin').
Two self-taught programmers chatted about their experiences learning to code.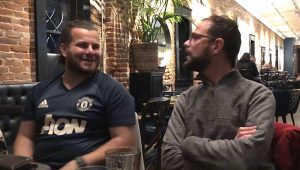 Book recommendation for people who want to teach themselves programming: The Self-Taught Programmer by Cory Althoff; well-written and reader-friendly.
Stock market swings: 20,000 points in one week! Will the market ever settle-down?
An upcoming event was announced during dinner; however, the date given was incorrect! EEK! Who would do that?! The event is the CORE Business Services Tech Talk & Happy Hour, happening on Thursday, February 22, 2018 at Four Daughters Irish Pub, 5:00 – 8:00 p.m. The event includes FREE appetizers! No registration required and no agenda!.
Motherboard Article on the Apple iBoot Code Leak
Pull quote: "According to these sources, the person who stole the code didn't have an axe to grind with Apple. Instead, while working at Apple, friends of the employee encouraged the worker to leak internal Apple code. Those friends were in the jailbreaking community and wanted the source code for their security research."
Air Pod Blew Up
Cautionary article on how an AirPod blew up; photo included. Fortunately, the man removed the AirPod while it was starting to smoke.
I discovered a little button at the top of the display on my iPhone X camera; it looks sort of like a target–or a bullseye. Actually, it's a toggle that turns on/off the Live Function on the phone. The Live Function automatically takes a brief video when you intend to only take one still photo. Thankfully, I discovered a free downloadable app called Lively that lets you grab one frame from the video. And that is why photos from recent events are so sparse; unbeknownst to me, at the time, I was taking videos. Oh, well. Educated now. Apologies to all whose images may be a bit blurred or otherwise imperfect. I'll do better next time.
Author: Karen
Written: 2/11/18
Published: 2/11/18
Copyright © 2018, FPP, LLC. All rights reserved.