At last! No rain. No snow. Warm and friendly faces. The first CocoaHeads Meeting of 2017 was attended by about a dozen people, all enjoying the first real day of "normal" winter weather: colder than you'd prefer but you didn't need an umbrella!
Several folks arrived at The Brickroom following the Digital Security Awareness Seminar conducted by the High Crimes Task Force from Portland, in conjunction with local HCTF members. The group discussed the seminar, with the idea in mind that the target market was business representatives—not geeks: Good overall, not very deep. Look for a wrapUp on that event in about a week, when we are told we will receive a .pdf of the presentation.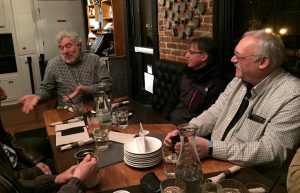 The issues discussed this evening included:
New gigs people have; they are working!
New ideas people have; sound promising!
New projects completed: Career Networking Video (Check it out! Give feedback!)
First programming projects everyone did, going back in time (around the table survey).
Connecting people who have a project with people who can help with their project.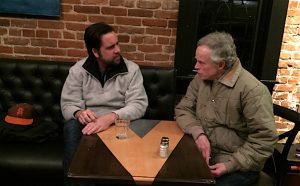 Travel to foreign countries, like Israel; trials and tribulations.
TSA Experiences; more trials and tribulations.
AI: now being taught at SOU by new professor, Wayne Iba; welcome Wayne!
Apple Business Practices, Swift & Chris Lattner's move to Tesla. Great move, Chris!
Programming Languages: Scala; css; JavaScript; general comparisons of languages.
Differences between programming languages & why to use one over the other.
Google needs to provide language conversion from Klingon to English. (see link).
Book: Overcomplicated by Samuel Arbesman. Must read!
Movies: The Accountant & Kill Shot. Must see!
Pacific Power uses your DOB as a password……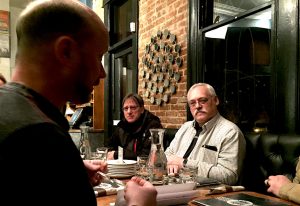 The CocoaHeads Group has grown from 2-3 people to more than a dozen in the past year. Thanks to everyone who attends, and keep spreading the word!
Author: Karen
Written: 1/15/17
Published: 1/15/17
Copyright © 2017, FPP, Inc. All rights reserved.