The November meeting was attended by some new folks, including two SOU Students who are working with Version 4 of Unreal; doing real-time rendering. One of the students has launched a Game Developer Club, and there are currently around 40 members; lots of women!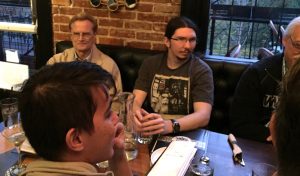 The Art Authority app was demonstrated by one of the programmers. This is a great app that presents the history of great works of art.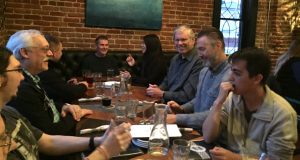 Youthanization, as demonstrated by several recent films where actors were reverse-aged (via CGI) to play themselves at a younger age, was a hot topic. (And, yes, Youthanized.com is already registered.)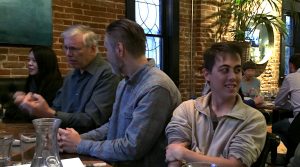 Mercedes, Paul, Rob, Brandon. Copyright © 2017, FPP, LLC. All rights reserved.Additive Manufacturing was another topic of interest to all. A recent article was cited that talked about one company (Boeing) in one industry (Aerospace) that outsources manufacturing (parts & assemblies) to 5,000 factories around the world; this increases the costs (shipping components and finished assemblies) and time-to-completion. With Additive Manufacturing, the parts that are currently being outsourced all over the world might be able to be re-designed (without having to consider current constraints imposed by existing manufacturing machinery) and manufactured right here in the U.S. (via commercial-trade 3D Printing techniques), creating new jobs—and new companies—to expand our manufacturing base. Very exciting times!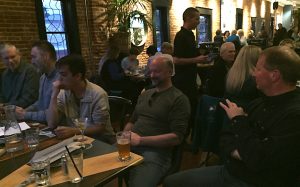 The December meeting brought more technical talk—mostly sharing and interactive dialog about issues resolved, sources of information, clubs, classes that they have taught at SOU, and some esoteric concepts like whether we live within some sort of artificial world, internet time and NSP.
Author: Karen
Written: 12/15/17
Published: 1/3/18
Copyright © 2018, FPP, LLC. All rights reserved.